Superburger Celebrates 40 Years
Superburger. Super Celebration!  
Saturday, June 17, 2023.
On Saturday, June 17 Superburger welcomes neighbours, friends and customers old and new to help us celebrate 40 years at the corner of Highways 10 and 89 in Primrose, Ontario. Join us for an afternoon of fun and food. They'll take you back to the day they opened 40 years ago serving up everyone's favourite Crinkle Cut Fries for the 1983 price of 85 cents.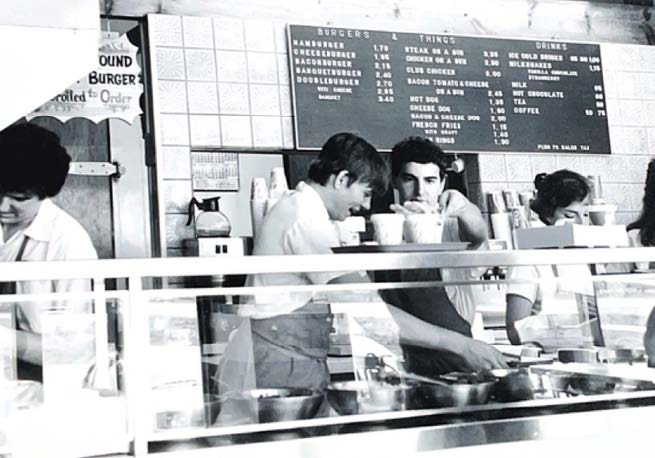 There'll be free ice cream, a bouncy castle for the kids and music too.
Join us
Throwback Fries – 85¢ fries all day long!
2 pm - Celebration, Mayor Janet Horner in attendance
12 - 7 pm Bouncy Castle
12 - 7 pm Ice Cream Truck with free scooped ice cream
The Story of Superburger
In the fall of 1982, while driving with his family to their weekend property just outside of Markdale, James Nicolaou noticed a For Sale sign in front of Andre's Buffet - a rickety wood building on the northwest corner of Highways 10 and 89 in Primrose.  James had a history of launching and operating burger joints in Toronto (the legendary Apache Burger
is just one), and with three kids in the backseat, clamouring for something to eat and a washroom to use, he had a hunch that Highway 10 could use a good place for a quick meal.
The rest is history, as they say. Over the winter James renovated the space and Superburger opened in June of 1983. By the fall of that year it had become a must-stop burger spot - open 9am-2am seven days a week, 362 days a year, serving up crinkle cut fries, home-made onion rings and burgers charbroiled to order.  James did the drive from Toronto every one of those days, up what was then a two-lane highway with narrow shoulders, through rain, sleet and snow.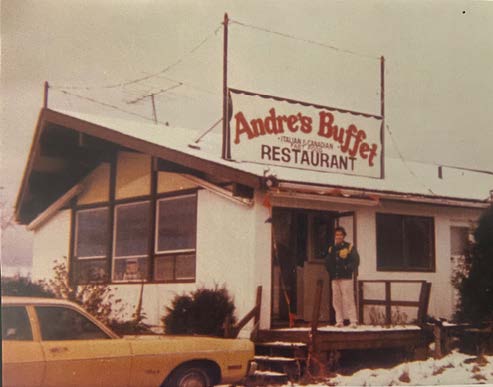 In 1985 the 60' flagpole was installed, and the various flags, all measuring 12' x 24' and visible from miles away, have become iconic markers of Mulmur Township.
In 1987 an extension was built and the famous streetcar was installed in 1990. The story is that James bought the streetcar for only $1 - the catch was that you had to pay to get it out of the TTC lot in Toronto and hauled all the way up the highway.

In 2000 James leased the business to the Kang family, who kept the burgers grilling and the flags flying for more than a decade. Meanwhile the Nicolaous were imagining a new era for Superburger, and in 2015 the original building and much-loved streetcar were demolished to make way for the current operation.

For James, it was always important to offer room for the big rig truckers, washrooms for the families who needed a bathroom break, and space for everyone - humans and canines alike -to stretch their legs. The current spacious facility, with its supercoffee espresso bar, ample parking area and expansive greenspace opened in June
2016 The business – handed down by James to his three children (all of whom worked with him as teenagers) – continues to thrive at the corner of 10 and 89, serving a steady stream of locals and road trippers from around the world. Paul runs day-to-day operations, and Cassandra pitches in with coffee expertise. Meanwhile James, at age 85, still drives up to Markdale and checks in at the store a couple of times a week. He's always got advice and an eagle eye - those garbages need changing, those bathrooms need checking, those bowls need refilling.
He usually grabs an onion ring -still made fresh every day using his secret recipe - on the way out.