April 17, 2023

@

6:00 pm

to

8:00 pm

April 24, 2023

@

6:00 pm

to

8:00 pm

May 1, 2023

@

6:00 pm

to

8:00 pm

May 8, 2023

@

6:00 pm

to

8:00 pm

May 15, 2023

@

6:00 pm

to

8:00 pm

May 29, 2023

@

6:00 pm

to

8:00 pm

June 5, 2023

@

6:00 pm

to

8:00 pm

June 12, 2023

@

6:00 pm

to

8:00 pm

June 19, 2023

@

6:00 pm

to

8:00 pm
Organization

Primrose Elementary School

Address

636064 Prince of Wales Rd

City

Mulmur

Province

ON

Postal Code

L9V 0B8
Contact Name

Jennifer Shephard

Contact Title

Communications Coordinator

Phone

Email

Website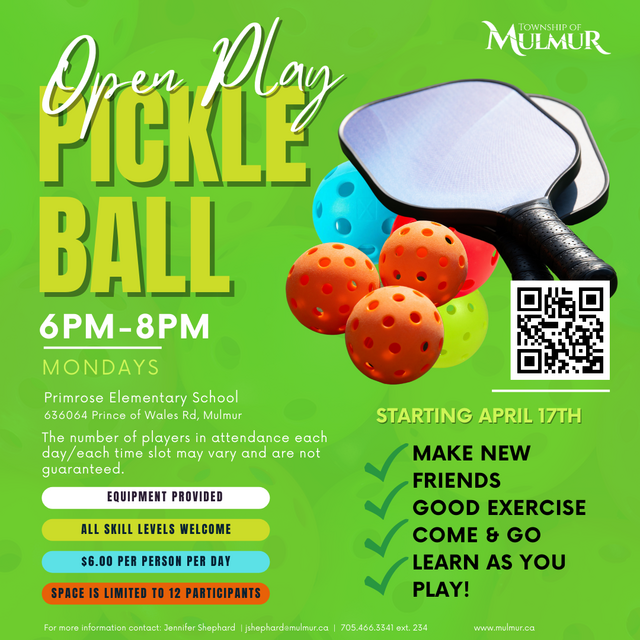 The Township is so excited to offer Open Play Pickleball Games starting April 17th at Primrose Elementary School.

Pay as you Play, all levels are welcome and Registering is easy!
1. Go to https://pickuphub.net/ or scan the QR code
2. Login with your Google account or create an account.
3. Find the games you wish to play.
4. Reserve Your Spot in Advance.

Any Questions, please call 705-466.3341 ext. 234 or email info@mulmur.ca.