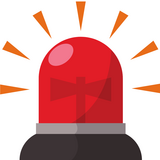 You should call 9-1-1 during any emergency where people or property are at risk.
To report a non-emergency incident call 1-888-310-1122
Sign up on Dufferin County's website to receive emails regarding watches, warnings and notices in the event of an emergency.
To prepare your household for an emergency consult the Emergency Preparedness Guide provided by Public Safety Canada.
Dufferin County Road Closures:
Find out about Dufferin County road closures through any of the following methods:
TWITTER: Follow Dufferin Roads @DufferinRoads
TEXT: Send a text to 40404 with the message "Follow @DufferinRoads"
EMAIL: Sign up for email notifications on Dufferin County's website
PHONE: call 519-941-2816  press 1, then 2